FCTA IDENTIFIES SMES AS PANACEA FOR ECONOMIC GROWTH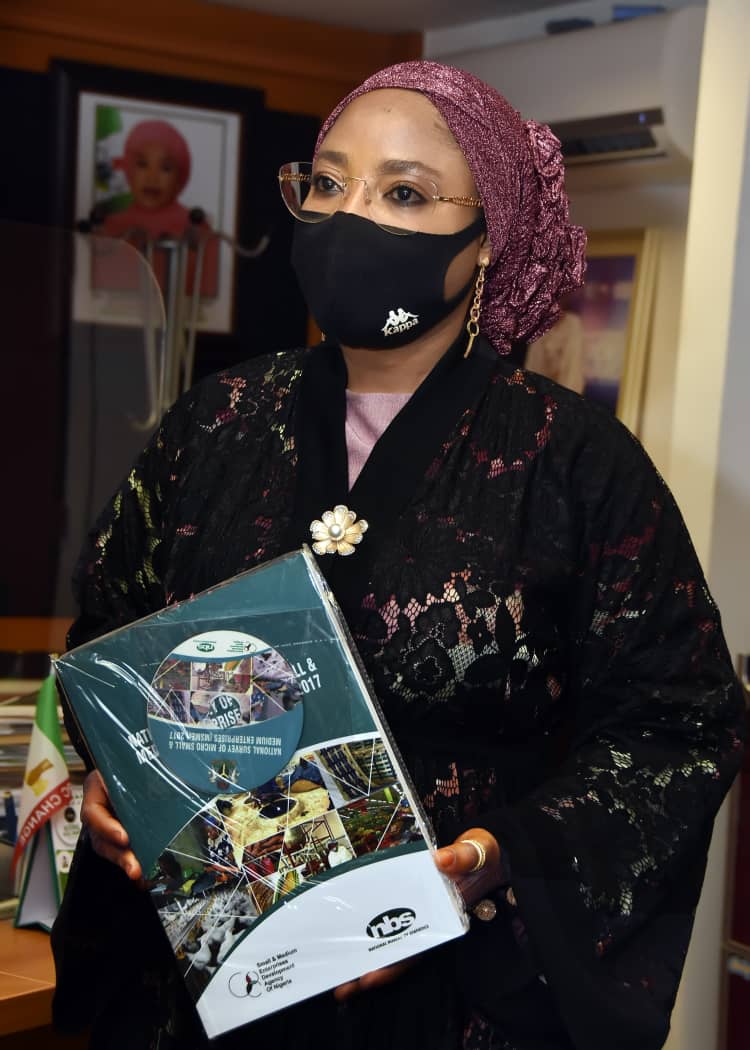 FCT Minister of State, Dr. Ramatu Tijjani Aliyu, has stated that the Federal Capital Territory Administration has identified the Small and Medium Scale Enterprises (SMEs) as an important component in the nation's stride towards economic growth and development.
To this end, the minister assured that the FCT Administration will continue to reward high impact entrepreneurs who had done very well in the various business related contests under the supervision of the Abuja Enterprise Agency.
Aliyu, who spoke at the induction and award ceremony of the Institute of Sales and Marketing Management of Nigeria, also affirmed that the Abuja Enterprise Agency remains the Administration's vehicle for entrepreneurial and wealth creation as encapsulated in the FCT Economic Empowerment and Development Strategy.
The minister who was represented by the Director Inspectorate, Planning and Monitoring, Area Councils Services Secretariat, Arc. Osuji Geoffrey, also assured that the Administration is leaving no stone unturned towards ensuring that MSMEs are not encumbered with business support challenges in the territory.
She used the occasion to reiterate that in over 10 years of supporting businesses in the FCT, the Agency has assisted over 73, 450 individuals and businesses, adding that 90 percent of whom are women and youths with critical business support such as business clinics, access to finance, workspace, market linkage amongst others.
The minister further stressed, "The Agency has also supported 31,100 rural entrepreneurs in 160 communities with capacity building trainings, access to finance, provision of equipment and other critical areas. These are just some of the few achievements the Agency has attained over the years".
While speaking on the theme of the induction ceremony; "Rewarding High Impact Entrepreneurs", the minister noted that the theme was not only apt, but also in line with the vision of government ease of doing business.
Aliyu, therefore, commended the institute for representing thousands of sales professionals from every sector of the economy, industry and commerce.
On his part, the President-in-Council Institute of Sales and Marketing Management of Nigeria, Alhj. Awulu Mutkari, said that since the establishment of the institute by Act of parliament in 2007, the institute has been active in its advisory role to government in policy formulation on trader matters.
Mutkari, who was represented by Prof. Yakubu Ochefu, also stated that apart from individuals, the institute has also been conducting in-house training for sales and marketing staff of corporate bodies who want to sharpen the skills of their employees to engage them in strategic revenue drive that would increase corporate earnings.
He, therefore, called on corporate bodies and other individuals to leverage the Abuja office to train or re-train their staff for professional efficiency, stressing that the unique training offered by the institute exposes students to rigorous educational and industrial on-field opportunities.
Austine Elemue
S.A Media To FCT Minister of State
April 22, 2021.