SECURITY: FCT MINISTER CALLS FOR PUBLIC'S COOPERATION WITH SECURITY AGENCIES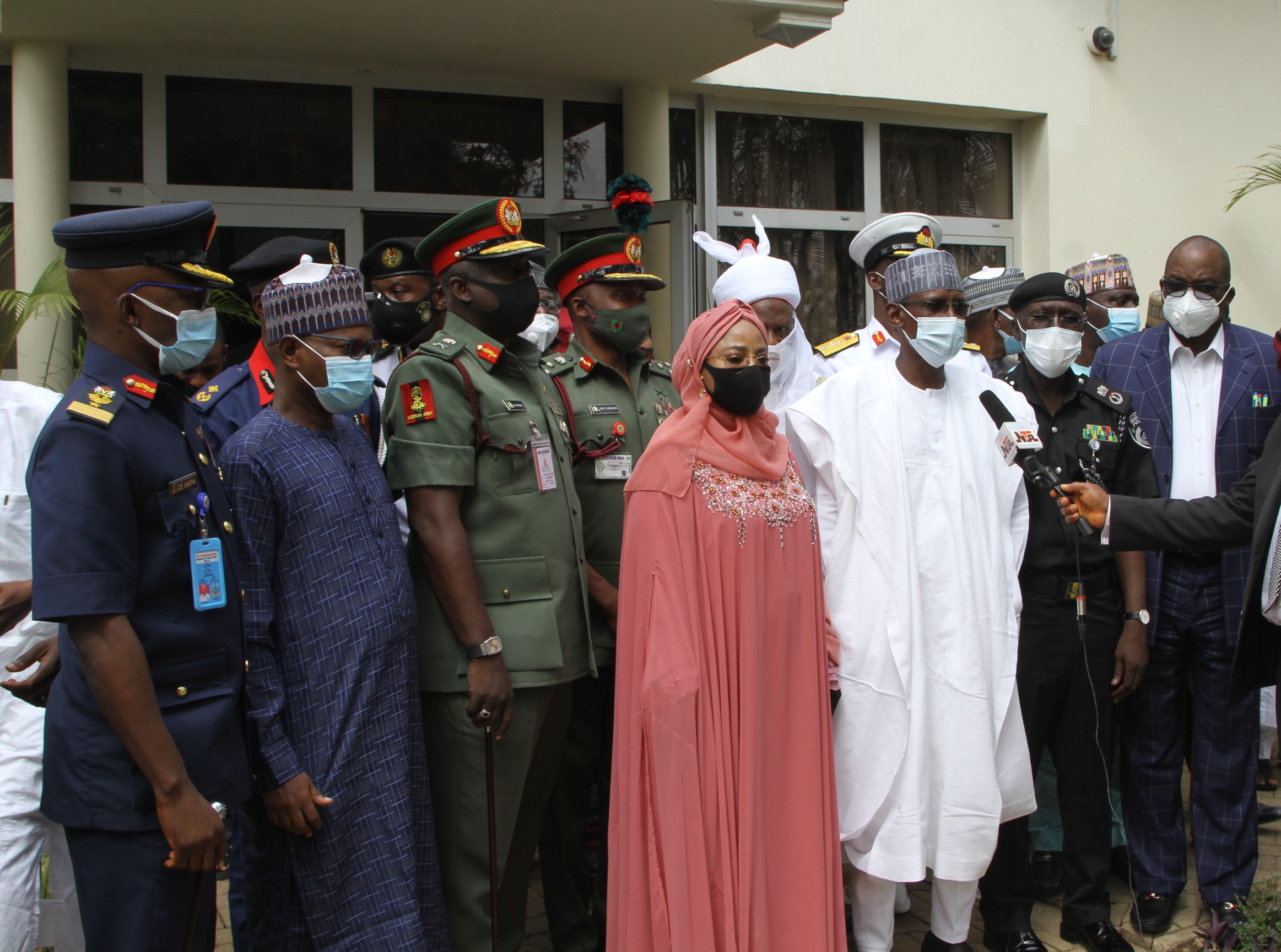 FCT Minister, Malam Muhammad Musa Bello (3rd right) flanked by the Hon. Minister of State Dr Ramatu Tijjani Aliyu  (4th right) FCT Commissioner of Police, Mr Bala Ciroma (2nd right) Permanent Secretary, FCTA, Mr Olusade Adesola and heads of military and other security agencies in the FCT following the FCT monthly Security Committee meeting
…CP ASSURES OF ADEQUATE SECURITY DURING SALLAH FESTIVITIES
1. The Honourable Minister of the FCT, Malam Muhammad Musa Bello has called on residents of the Territory to always collaborate with security agencies to guarantee the safety and security of lives and property within their communities.
2.  The Minister said this following the monthly FCT Security Committee meeting which took place on Monday, 10th May 2021.  
3.  He assured residents that the various security agencies were committed to ensuring the safety of residents and that community, traditional, political and religious leaders have been enjoined to encourage their members to understand that security should not be left to the security personnel alone but should be a collaborative effort of all.
4.  The Minister said " We have to ensure that communities make efforts to know who they stay with and also ensure that information is gathered and sent appropriately to the right people"
5.  Malam Bello also revealed that the issue of security in schools was discussed extensively during the meeting and said that measures were being taken to ensure safety in all educational institutions in the FCT.
6.   According to the Minister, also discussed were the negative effects of urbanization and the issue of shanties around the city as well as cult activities caused mainly because of a breakdown of family structures. He also assured that specific criminality identified in specific communities would also be addressed.
7.  He also decried the activities of individuals who deliberately set out to misinform the public through negative posts especially through the social media and revealed that some arrests have so far been made.
8.   In her comments, the Hon. Minister of State, Dr Ramatu Tijjani Aliyu also said that the issue of beggars  on FCT streets which she said constitutes security risks was also being addressed.
9.   The FCT Commissioner of Police also assured residents that FCT Police Command would ensure the safety of lives and property during and after the Eid El- Fitr celebrations saying that the police was always rejigging its strategies to meet ever evolving challenges.
10.  Also present at the Security Committee meeting were the heads of the various military and para-military formations in the FCT, Area Council Chairmen, head of the FCT traditional institutions, religious leaders and heads of the various SDAs within the FCTA.
ANTHONY OGUNLEYE
CHIEF PRESS SECRETARY
FCTA/OCPS/PR/22913/05/2021