SECURITY: FCT MINISTER ACKNOWLEDGES CONTRIBUTION OF NIGERIAN NAVY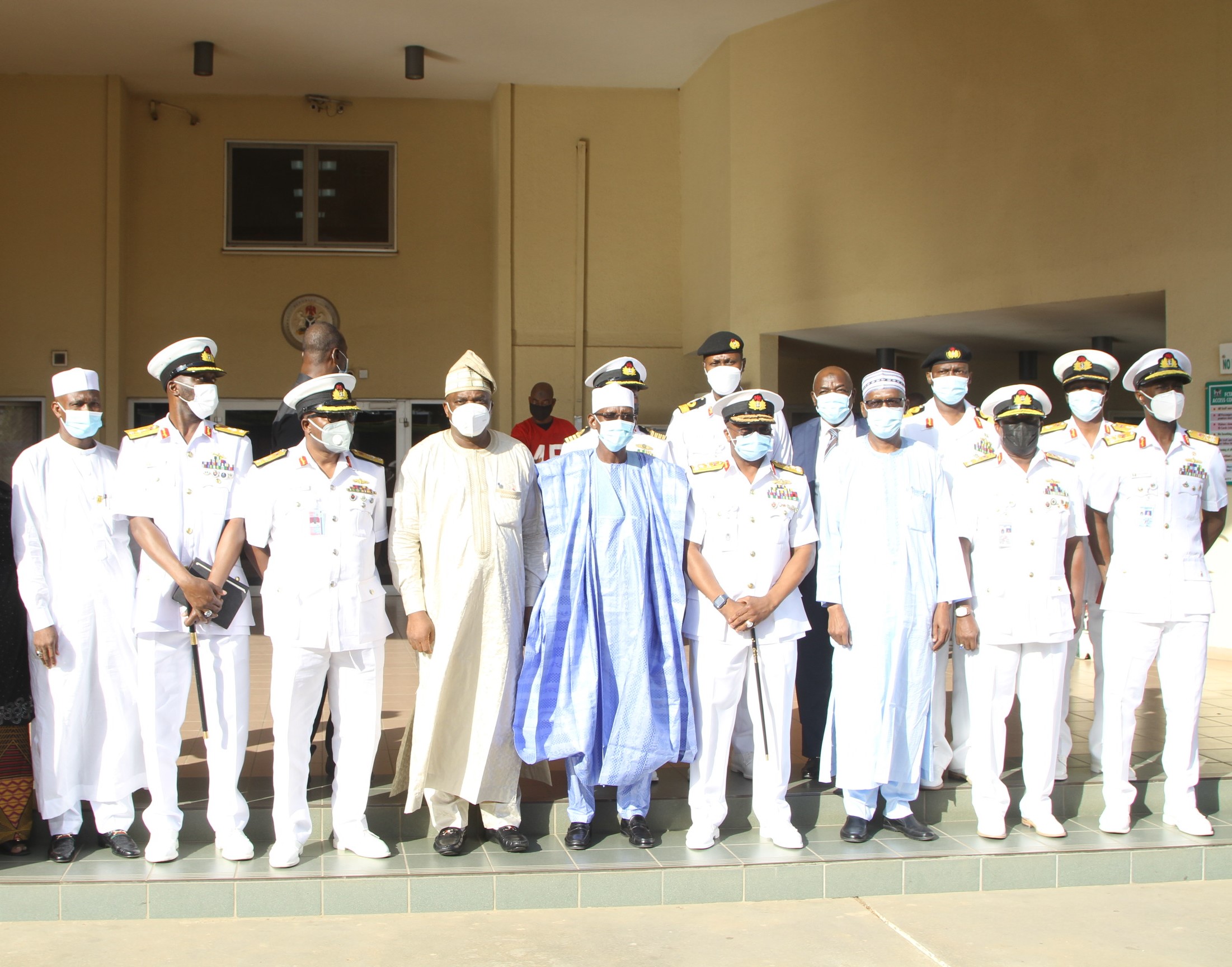 FCT Minister, Malam Muhammad Musa Bello (5th left), Chief of Naval Staff Vice Admiral A.Z Gambo (6th left), Permanent Secretary, FCTA, Mr Olusade Adesola (4th left) and other senior naval and FCTA officials during the courtesy visit of the CNS to the FCT Minister on Tuesday, 18th May 2021
1.    The Honourable Minister of the FCT, Malam Muhammad Musa Bello has expressed the appreciation of the FCT Administration to the Nigerian Navy for its efforts in the provision of security for the nation's capital.
2.    The Minister made this appreciation when the Chief of Naval Staff, Vice Admiral A.Z Gambo paid a courtesy visit to the FCTA .
3. The Minister said that the Nigerian Navy always participated actively in the FCT Security Committee and the Commanders of its Units in the FCT, were in the forefront of providing the needed operational support during joint operations.
4. In the words of the Minister, "Your Commanders have been very active in our FCT Security Committee. In most instances, when issues come up that require joint operations with other agencies, your Commanders have always been in the forefront of providing the needed support and we thank you very much for that".
5. The Minister also expressed pleasure at the plans of the Naval Officers' Wives Association to build a 200 bed maternity and children hospital in the Territory which will be open to members of the public and pledged that the Administration will identify a suitable plot of land to site the proposed hospital.
6. Malam Bello said "We will definitely work towards identifying a proper location that you can really quickly move in and start development". He also called for the possibility of increasing the hospital capacity beyond its proposed 200 bed spaces.
7. The Minister also commended the plans of the navy to open the primary and secondary schools located in its barracks at Pegi, Kuje Area Council, to members of the public as part of its Corporate Social Responsibility
8. Speaking earlier, the Chief of Naval Staff acknowledged the cordial relationship that exists between the FCT Administration and the Nigerian Navy especially in the task of providing security in the FCT.
9. Vice Admiral Gambo expressed happiness at the Administration's efforts in rehabilitating the Kuje to Pegi road and said that its completion will improve security and commuting along that axis.
10.  He also commended the efforts of the Administration on the construction of the Apo –Karshi road which he said will enhance movement into the city and equally improve the security situation within the city.
11.      Also present at the at visit were the Permanent Secretary, FCTA, Mr Olusade Adesola, the Chief of Staff to the FCT Minister, Malam Bashir Mai-Bornu, Director of security, FCTA, Mr Adamu Gwary and other senior officers of the Nigerian NAVY and the FCTA.   
ANTHONY OGUNLEYE
CHIEF PRESS SECRETARY
FCTA/OCPS/PR/23219/05/2021