WASSA DISTRICT DEVELOPMENT: FCT MINISTER TOURS APO-KARSHI ROAD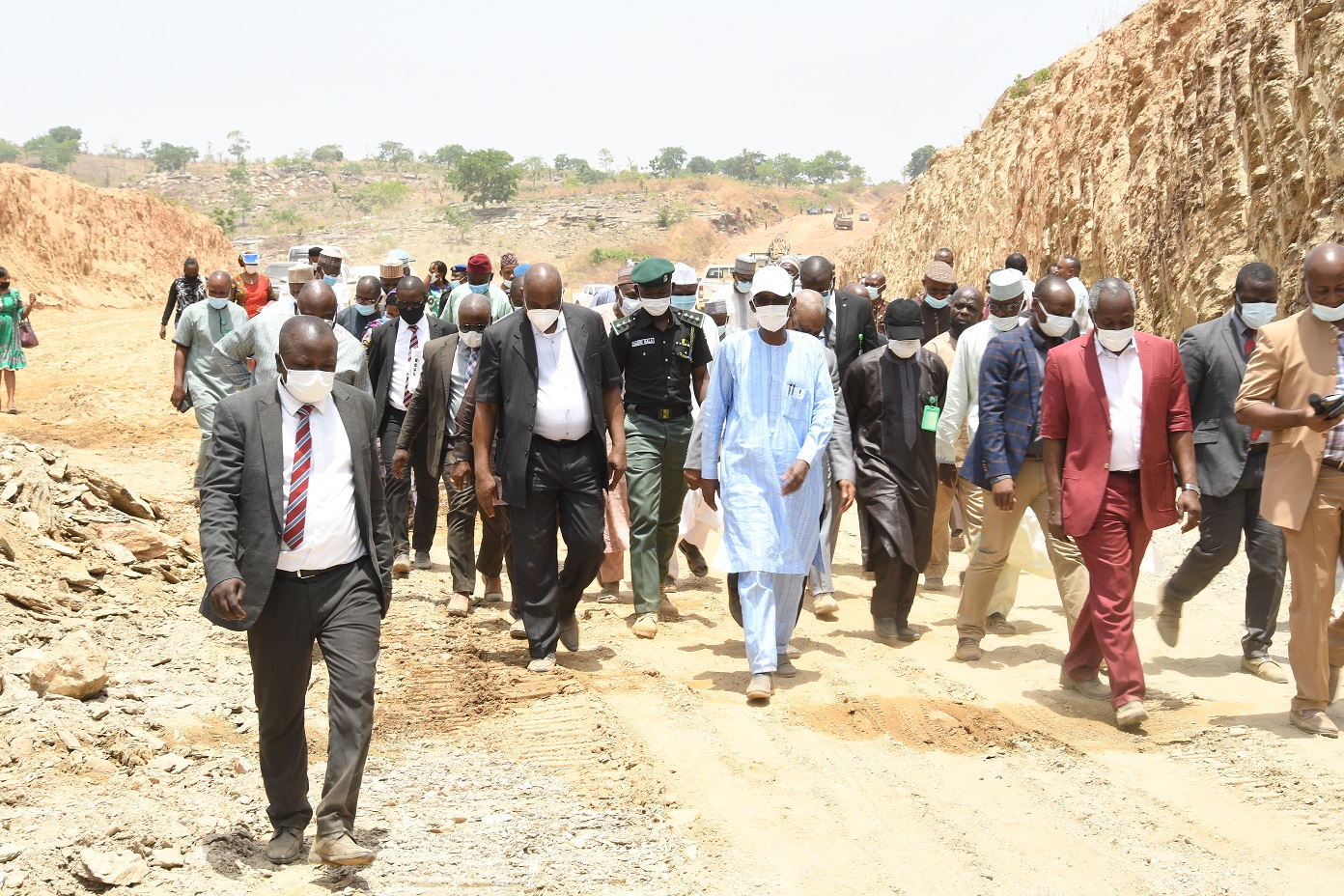 FCT Minister, Malam Muhammad Musa Bello (middle with cap) flanked by officials of the FCTA on tour of the Apo-Karshi road recently.
1. As part of efforts to ensure the development of the Wassa District of the FCT, the Honourable Minister of the Federal Capital Territory, Malam Muhammad Musa Bello, recently undertook an extensive tour of projects being carried out in the district including the Apo-Karshi road.
2. Accompanied by senior members of staff of the relevant departments and agencies of the FCTA, the Minister received briefs from the project contractors as well as the site engineers and other relevant personnel.
3. Speaking at the end of the tour, the Acting Coordinator of the Satellite Towns Development Department (STDD), Engr Felix Nwankwo, said that a greater proportion of the work has been completed and with the release of funds by the FCTA, completion of the entire project is imminent.
4. According to him, The Apo Karshi road is being constructed in two sections by two contractors. Of the first section which is 13.5 KM in length, 8.5 KM has been asphalted starting from the Wassa community, leading up to a section bounded by a hill.
5. In the words of the Acting STDD Coordinator "The active area we are dealing with now is 1 kilometer, which is the hill portion. We are reducing the hill and then filling the two locations of the valley to raise it up to the required profile. That's what the contractor is currently doing. It's a massive work because it requires a lot of earthworks".
6. He also revealed that the second section of the road, which is 1.8 kilometers in length is being constructed as a part of the Karshi Waterworks Project, which is equally on-going.
7. Malam Bello charged the contractors and FCTA officials to ensure that good quality work, for which the FCT is known, is delivered.
8. The Minister also met some members of the local population whom he assured of the Administration's commitment to ensuring their welfare and wellbeing.
9. Accompanying the Minister on the tour were the Permanent Secretary FCTA, Mr Olusade Adesola, the Chief of Staff to the Minister, Malam Bashir Mai-Bornu, the Director of Engineering Services of the FCDA Engr Obiora Ezua, Director of Land Administration, TPL Adamu Hussaini Jubril amongst other senior members of staff of the FCTA.
ANTHONY OGUNLEYE
CHIEF PRESS SECRETARY
23/05/2021
FCTA/OCPS/PR/235