BELLO HAILS NCWS OVER PROMOTION OF WOMEN INCLUSIVITY IN GOVERNANCE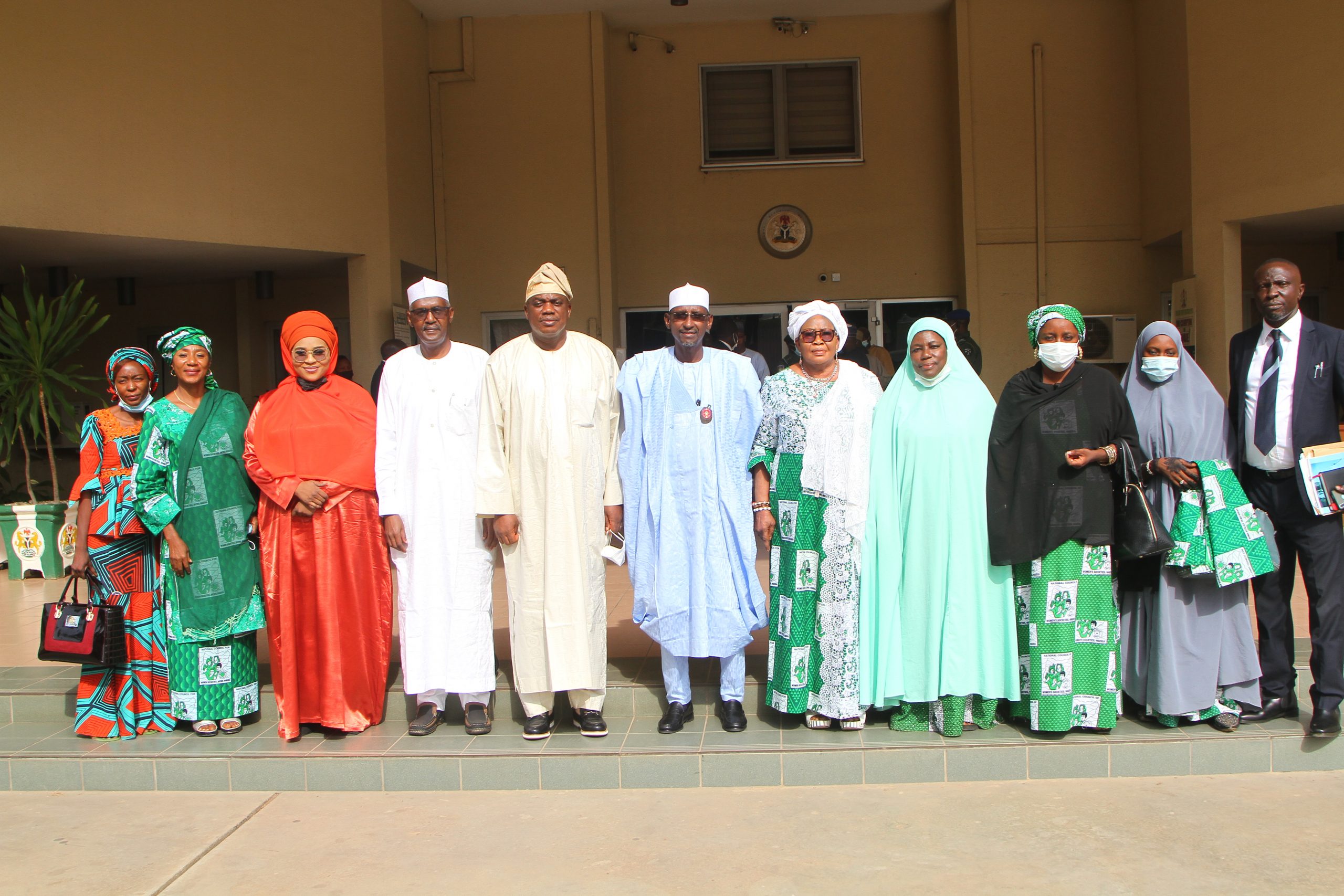 FCT Minister, Malam Muhammad Musa Bello (6th left) flanked by the National President National Council of Women Societies (NCWS) DR Gloria Shoda, (7th left), Permanent Secretary, FCTA, Mr Olusade Adesola (5th) left and other officials of the FCTA and NCWS during a courtesy visit by members of the NCWS to the FCTA
1. Minister of the FCT, Malam Muhammad Musa Bello has commended the National Council of Women's Societies (NCWS) over its efforts at ensuring inclusivity of women in governance.
2. Malam Bello made the commendation during a courtesy call to the FCTA by officials of the Council led by its National President, Dr. Gloria Laraba Shoda.
3. Bello said: "I commend you for the promotion of inclusivity of women in the country, you have done tremendous work and have been very supportive of our activities, particularly during COVID-19".
4. "We know the role of women in Nigeria and we know the role of women in bringing about this particular government and we know the positive views of our leader, President Muhammadu Buhari in respect to gender issues".
5. "And in the FCT, we have always keyed into these views and ideals and that is why we have a specific Departments and Units dedicated to handling these issues." The Minister added
6. Commenting on requests earlier made by the NCWS President, for more support to the Council, Malam Bello affirmed that it was incumbent on everybody to support the NCWS because of its complementary activities and programmes.
7. "Quite frankly, your requirements are things that everyone will want to support because it is our duty to support you because you are complementing what we are doing".
8. The Minister thereafter asked the NCWS President to work closely with FCTA's Social Development Secretariat in order to build an institutional relationship.
9. Earlier, Dr. Shoda had requested the Minister to assist the NCWS in its activities to help improve the livelihood of women across the FCT.
ANTHONY OGUNLEYE
CHIEF PRESS SECRETARY
8/12/2021
FCTA/OCPS/PR/294