FCT MINISTER PRESENTS LAND DOCUMENTS TO QATAR CHARITY FOR CONSTRUCTION OF WORLD CLASS HOSPITAL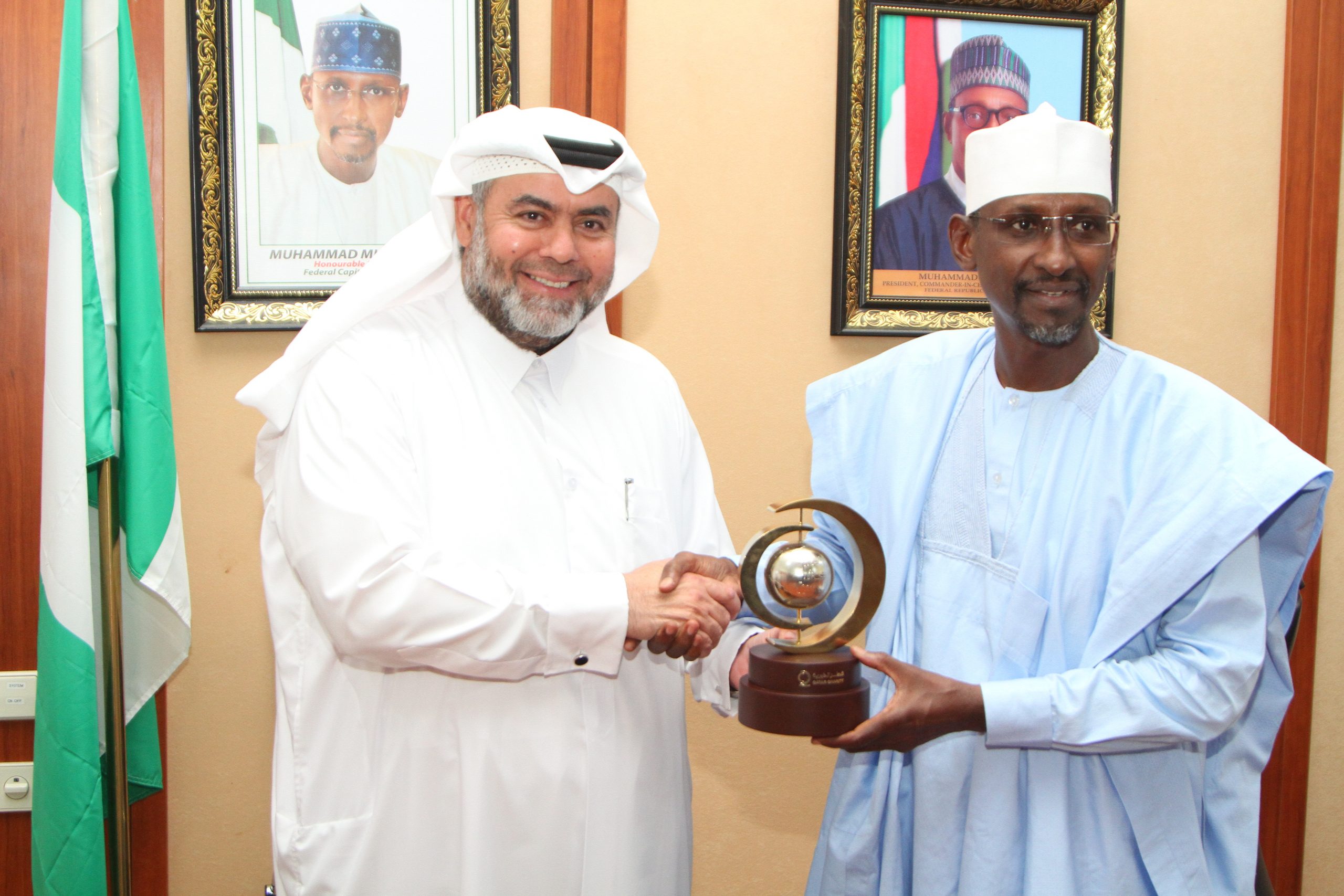 1. As part of efforts aimed at the provision of first grade medical services to residents of the Federal Capital Territory (FCT), the FCT Administration, has earmarked over 8000 square meters of land at the Mbora District of Abuja to Qatar Charity Organisation for the construction of a world class hospital.

2. This was disclosed by the FCT Minister, Malam Muhammad Musa Bello during a courtesy visit by a delegation of the Qatar Charity Organisation led by its CEO, Sheikh Ahmad Al-Kuwari to the FCTA.
3. While presenting the land documents to Sheikh Yousuf Al-Kuwari, Malam Bello said the establishment of the hospital will not only create new job opportunities for residents of the FCT but will also help in fighting medical tourism abroad.4. The FCT Minister also commended the good work that Qatar Charity has been doing in the FCT while expressing hope for more collaboration between the FCT Administration and the organisation.
5. Among projects being sited in the FCT by the Charity include a 200 unit housing estate for Widows and Orphans in Wassa district as well as 10 other projects which include a school, staff quarters and orphanage at the Gaduwa District of the city .
6. While receiving the Right of Occupancy to the land, Sheikh Al-Kuwari, expressed his organization's appreciation to the FCT Minister, for the support his organization has so far received from the FCT Administration.
7. Sheikh Al-Kuwari particularly commended the FCT Minister for the provision of a conducive atmosphere for the Charity to work while assuring him that the land would be effectively utilized.
8. Present at the meeting were the Chief of Staff to the Honourable Minister, Malam Bashir Mai-Bornu, Secretary, Health and Human Services of the FCTA, Dr. Abubakar Tafida, Senior Special Assistant to the Honourable Minister on Legal Matters, Barr. Lawal Yusuf, the Qatari Deputy Ambassador to Nigeria, Ahmad Alhur, Qatar Charity Country Director, Mr. Hamdi Abdou and other officials of Qatar Charity and the FCTA.
ANTHONY OGUNLEYE
CHIEF PRESS SECRETARY
09/06/2022
FCTA/OCPS/PR/338