BODY OF BENCHERS HALL: FCTA TO COMPLETE ACCESS ROAD TO EDIFICE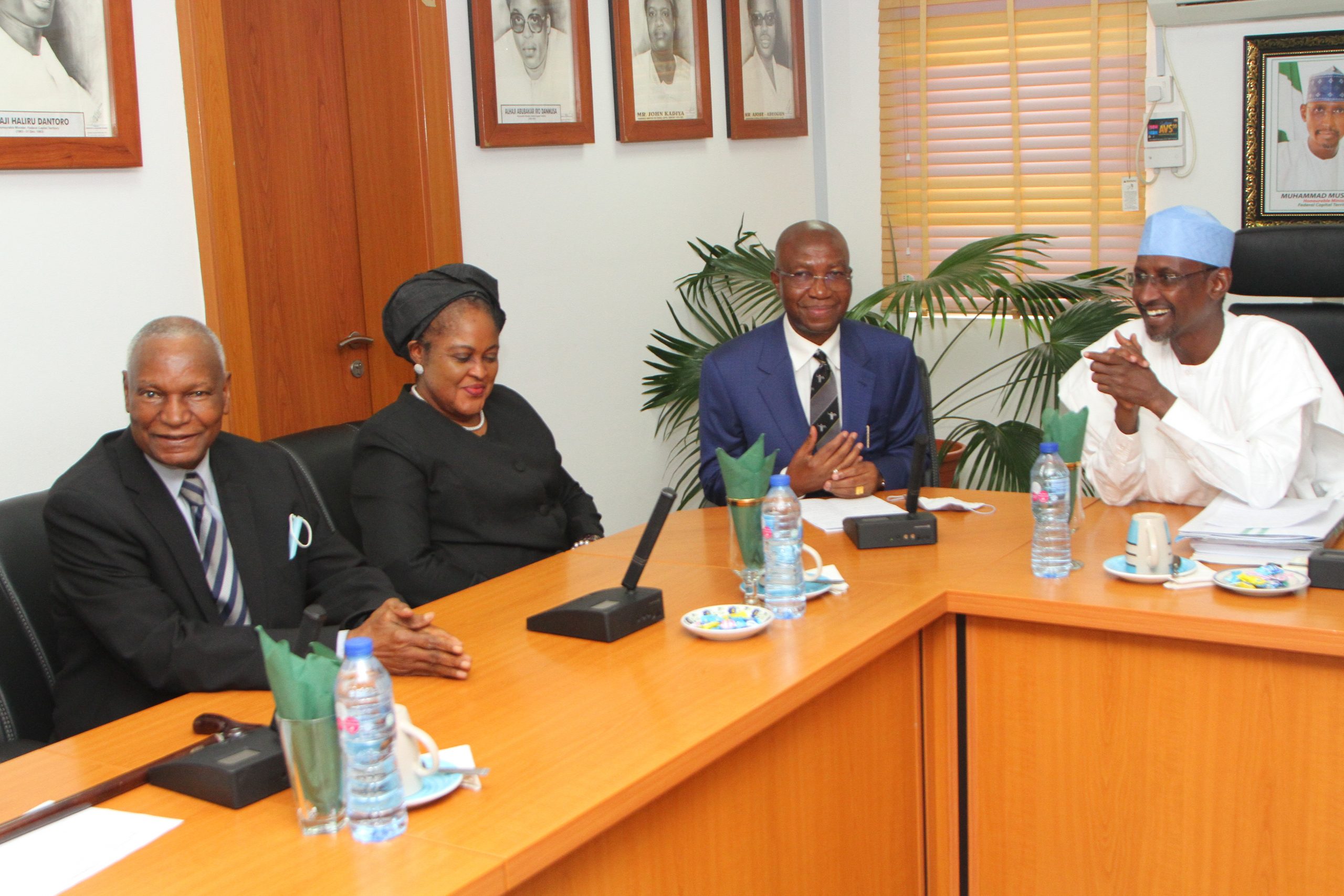 L-R) Hon. Justice Umaru Abdullahi, former President, Court of Appeal, (left), Hon. Justice Mary Peter Odili, Vice Chairman, Body of Benchers of Nigeria, Chief Wole Olanipekun, Chairman, Body of Benchers of Nigeria, and the FCT Minister, Malam Muhammad Musa Bello  during the visit of the Body of Benchers of Nigeria to the FCTA on Tuesday, 21st June, 2022
1. The Federal Capital Territory Administration will complete the access road to the Body of Benchers Hall in time for the commissioning of the edifice located at the Research Institutional District of Abuja.
2. This commitment was made by the FCT Minister, Malam Muhammad Musa Bello during the visit of a delegation of eminent members of the Body of Benchers of Nigeria led by its Chairman, Chief Wole Olanipekun to the FCTA.
3. Malam Bello expressed the appreciation of the Administration to the judiciary saying "we are very conscious of the legal profession and justice system probably because we are the only city in Nigeria that is a creation of law and in all that we do, we are guided by law and all of you and the entire profession have been supportive of us.
4. "it is our duty therefore as a city to really support you in all that you require because it is the natural thing to do" he added.
5. Speaking on the demand for access road to the Body of Benchers Hall which is the office complex of the Body of Benchers, the Minister said that the Institutional District of the city is intended to accommodate research and academic institutions and the FCTA was paying particular attention to the provision of infrastructure within the district.
6. He said" a few months ago, I was there to see what we could do to fast track the road projects in the area and I intend, with my team, to look at what the challenges are and as quickly as possible try to see how we can surmount them. This is very important because it will add tremendous value to the city of Abuja.
7. What we have tried to do over the last few years is to try to position the city as a conference tourism destination because of the serene environment, peace and the ability to move around easily. We think that gradually, we can position the city for that"
8. Speaking earlier, Chief Wole Olanipekun thanked the Minister for the warm reception granted the delegation and requested for the completion of the access road to the Body of Benchers Hall in time for its formal commissioning.
9. Also at the event, were Vice Chairman, Justice Mary Odili, former President Court of Appeal, Hon. Justice Umaru Abdullahi, Justice Ishaq Bello, former Chief Judge of the FCT, Chairman, Council of Legal Education, Chief Emeka Ngige, Attorney General of Katsina State, Mrs Asmau Mukhtar. Life Benchers, Chief A.S. Awomolo, Chief John Ochoga, Chief R.A Lawal Rabana, former Governor of Bauchi State, M.A Abubakar and Secretary, Body of Benchers Daniel Tela.
10.  Others in attendance were the Chief of Staff to FCT Minister, Malam Bashir Mai-Bornu, FCTA General Counsel Mohammed Babangida Umar and SSA Legal and Multilateral Affairs to the FCT Minister, Barr. Lawal Yusuf.
ANTHONY OGUNLEYE
CHIEF PRESS SECRETARY
22/06/2002
FCTA/OCPS/PR/341