FCTA GIANT STRIDE IN SCHOOL FEEDING PROGRAM THROUGH THE HMS HAJIYA DR. RAMATU TIJJANI ALIYU!!!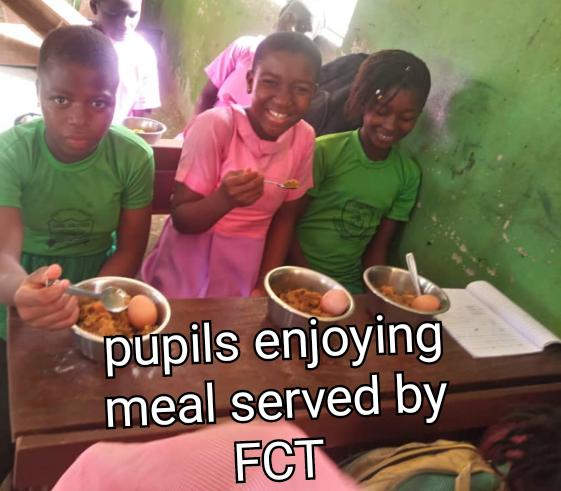 The school feeding is one among the many social interventions program of this present administration. According to the FCT Focal person/Coordinator Mrs CHIWENDU ETEYEN AMBA largely the program is a success in the FCT because it has received maximum attention and support of the HMS. She further add that more intervention schemes are rolled out by the administration to support the teaming youth and populace within the FCT and beyond.
The classes so far the govt is feeding is Primary 1-3, However due to the magnanimity of Hon Minister Of State Dr. Ramatu Tijjani Aliyu, primary 4 was added, As a result of the feeding, the number of out of school children in FCT has reduce drastically. The school feeding program serves as some sort of motivation to the pupils.
The HMS FCT Hajiya Dr. Ramatu Tijjani Aliyu also ensure strict compliance with the food menu she designs for the children, part of the varieties of food the children enjoys are; Rice with Vegetables, Rice With Stew, Rice With Beans, and Beans, Eggs, Potatoes, Tom Brown etc
The program is done in collaboration with Ministry of Humanitarian affairs and has receive maximum support and encouragement from the Hon Minister of State FCT Hajiya Dr. Ramatu Tijjani Aliyu, because she's a mother to all FCT Children.
Worthy to note, is the significant impact the school feeding program is making among Farmers, Marketers, the cooks and suppliers of the raw food items, the chain of wealth distribution has contributed immensely to the per capital income of the people within FCT.
The program is a sustainable initiative that will transient this current administration. The idea of reducing much burden on parent with low income earnings is part of the reasons advance for the sustainability of this laudable initiative.
You may wish to know that the program has helped to ensure that pupils remain in classes to study and also has further improved the Pupils concentration. The performance compared before enrollment of this initiative was wide and on daily basis there is tremendous improvement on the pupils.
In the light of the above, it's glaring that FCT has set a standard for other state to emulate. This fit is achieved only as a result of the HMS Hajiya Ramatu Tijjani Aliyu commitment towards giving a better and sound education to our children.