FCTA SCORES HIGH ON IMPLEMENTATION OF NEW TEACHER'S POLICY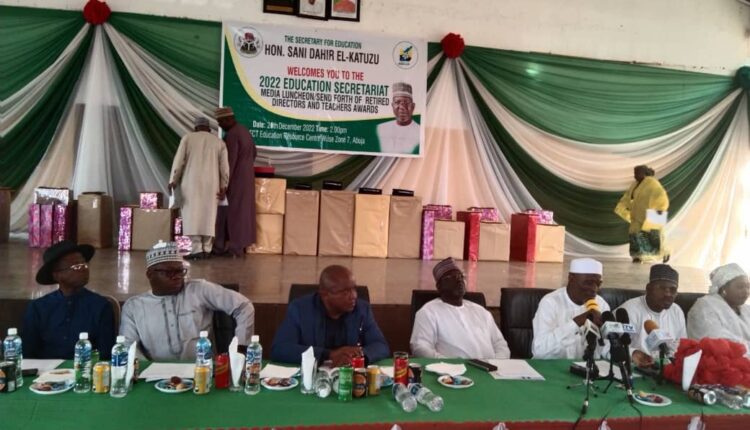 The Head of Service of the Federation, Mrs. Folasade Yemi-Esan commended the Federal Capital Territory Administration (FCTA) for the quick implementation of the New Teachers Policy.
She praised the Administration for being the first in the Federation to implement the Federal Executive Council's authorized 65 years/40 years as the new retirement age and years of service for teachers in 2021.
During the FCT Education Secretariat's end-of-year media briefing and award ceremony for outstanding/retired workers, Mallam Muhammad Bashir, Director of FCT Human Resource Management revealed that Education Secretariat has been able to record a lot of achievements with the support of the Minister of the FCT, Mallam Muhammad Bello, The FCT Minister Of State and The Permanent Secretary.
He also pointed out that this achievement is a clear indication that the welfare of Teachers, is a priority of the FCT Administration. He also said that the Administration has directed that Staff Welfare should be improved especially that of Teachers.
The Director also appreciated the efforts of the Education Secretary, Sani Dahir El- Katuzu whose tenure facilitated the settlement of arrears being owed to Teachers.
Bashir described the award conferred on the Retired and Serving Staff as a lofty idea that should be duplicated across all SDAs of the FCT Administration.
Meanwhile, the Mandate Secretary, FCTA Education Secretariat, Sani Dahir El- Katuzu, said that the teachers will now enjoy the full implementation of this policy, having the opportunity of serving at 40 years and 65 years of age; He further highlighted some of the achievements of the secretariat in the last past one year, which included
The installation of hybrid solar systems in 59 Secondary Education Board (SEB -Schools) across the six Area Councils,
The Establishment of the solar hub at the incubation center, Karu in collaboration with Verysol Energy Technologies,
The Construction and furnishing of a 1000-capacity GSE hall, Zuba, and the construction of the School of languages
Commissioning of a renovated Lugbe learning center,
Establishment and take-off of Government Science and Technical College, Kogo – Bwari for the 2022/2023 academic year amongst many others.