FCTA CHALLENGES ENGINEERS TO UTILIZE FLOODING FOR ECONOMIC GAINS.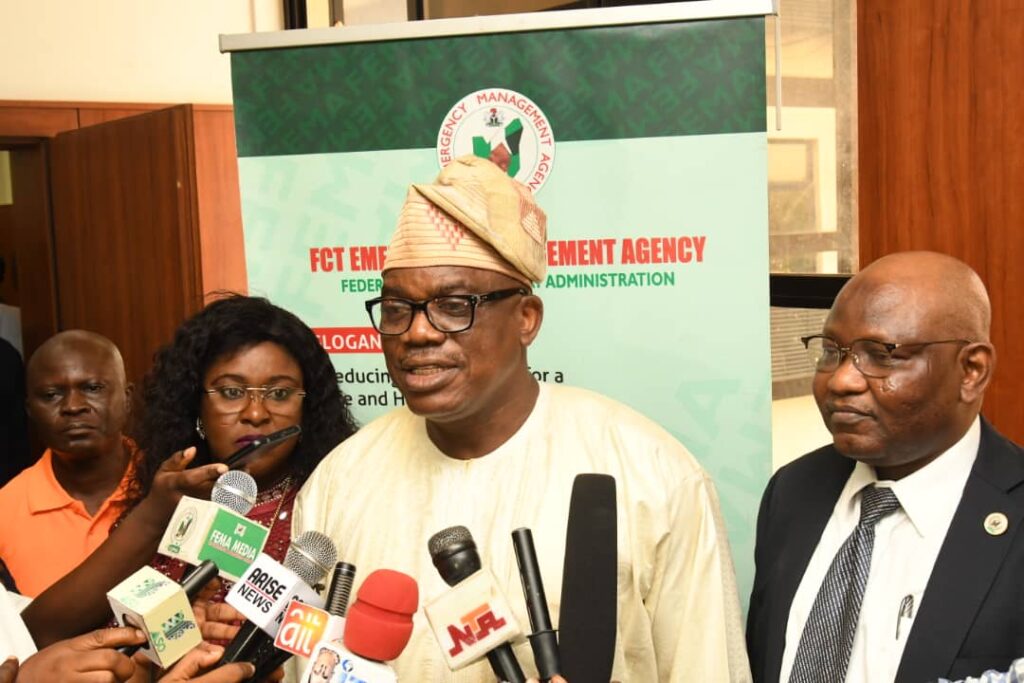 Nigerian Engineers have been assigned the task of developing innovative solutions to utilize excess water resulting from flooding across the country, specifically in the Federal Capital Territory (FCT). This initiative aims to mitigate the impact of floods, enhance year-round economic activities, and protect lives and properties. The challenge was presented by Mr. Olusade Adesola, the Permanent Secretary of the FCTA, during an emergency stakeholders meeting on flood mitigation organized by the FCT Emergency Management Agency (FEMA) in Abuja.
Adesola expressed concern about the significant destruction caused by seasonal floods and emphasized the need for Engineers to devise strategies to redirect the surplus water towards productive economic activities like tourism and year-round farming. He disapproved of human-induced factors such as indiscriminate waste disposal, improper land development, diversion of water from natural courses, construction on flood plains, and obstruction of water channels.
The Permanent Secretary urged residents to avoid purchasing lands that have not been duly allocated by the Land Administration Department, especially if they are located in waterways. He emphasized the importance of conducting thorough investigations into the status of land before making any purchases and advised against acquiring land from Chiefs and Area Councils, as they lack the authority to allocate or sell land.
Adesola further stressed the significance of properly zoning flood plains to limit urbanization and prevent the construction of structures in hazardous areas that pose risks to lives and properties. In addition, Dr. Idriss Abbas, the Director General of FEMA, announced plans to train local divers across the six Area Councils in water rescue techniques at Jabi Lake and Moshood Abiola Stadium swimming pool to enhance their preparedness for any emergencies.
Abbas also called upon the Area Councils to strengthen their local emergency committees, acknowledging their crucial role in facilitating FEMA's operations at the grassroots level. Engr. Shehu Hadi-Ahmad, the Executive Secretary of the Federal Capital Development Authority (FCDA), provided insights into the Abuja Master Plan and Flood Control measures. He highlighted the necessity for constructing seven bridges in the Galadimawa District of Abuja to address the recurring annual flooding. The FCDA is currently conducting a comprehensive Hydrological Survey of the city to identify all sources of water run-offs and implement erosion control measures.
In a goodwill message, Clem Nze, the Director General of the Nigeria Hydrological Services Agency (NIHSA), revealed that the FCT is at a high risk of flooding in 2023. Florence Wenegieme, the Director of Forecasting Response and Mitigation at FEMA, explained that the purpose of the meeting was to collaborate with key stakeholders in the FCT and formulate a comprehensive action plan that would guide flood preparedness efforts.