MAHMOUD IDENTIFIES TEACHERS AS CATALYST IN SHAPING SOCIETY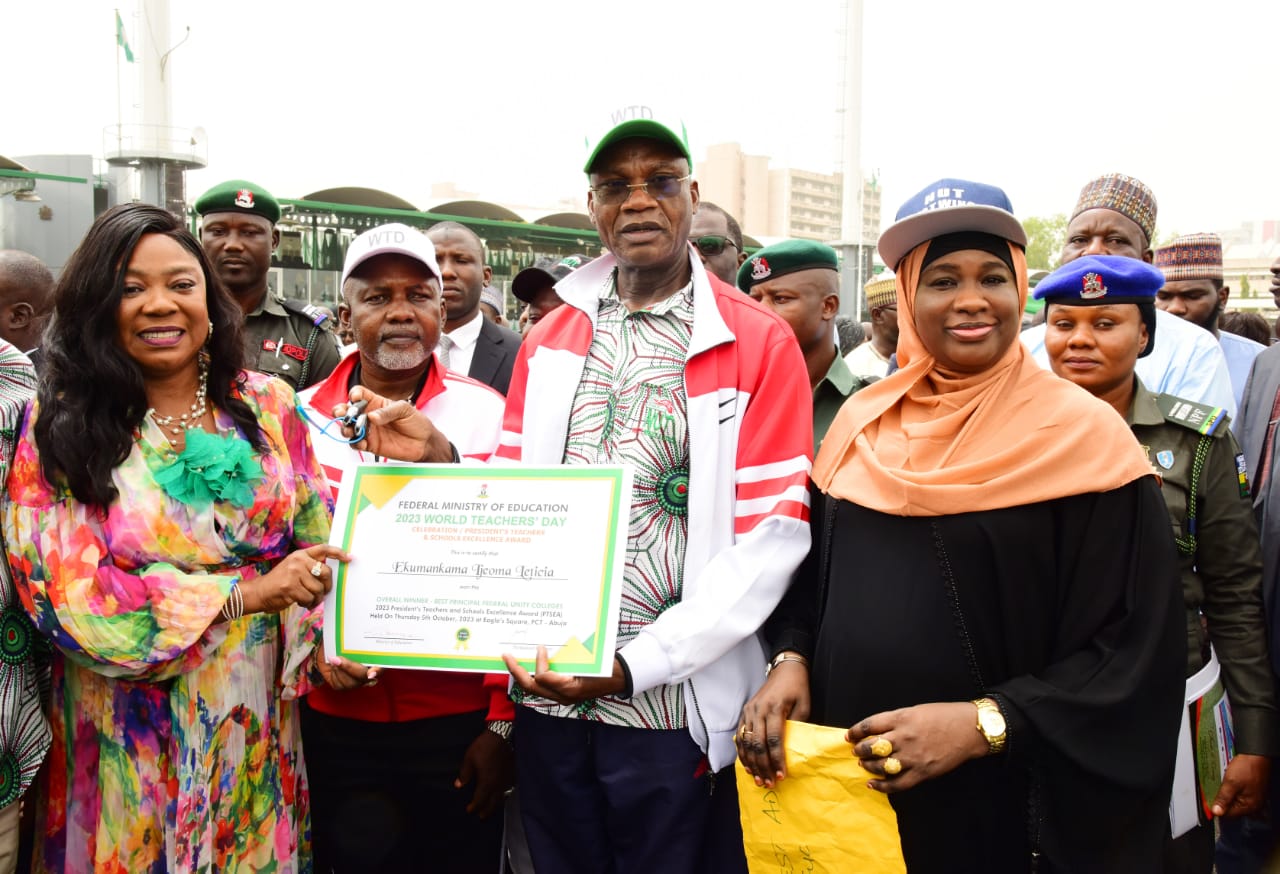 As the world marks the World Teachers' Day today, the Federal Capital Territory Minister of State, Dr. Mariya Mahmoud, has identified teachers as catalyst in shaping society.
The minister stated this in her goodwill message to commemorate the 2023 World Teachers' Day held at the Eagle Square, Abuja.
Mahmoud, who used the occasion to congratulate all teachers on this remarkable day, however, acknowledged the invaluable contributions of teachers in shaping the future of the society.
"Globally, teachers play a crucial role in modern society. It has been acknowledged that teachers are not only responsible for imparting knowledge and skills to the next generation, but they are also responsible in equipping us with the tools we need to succeed in life," she noted.
Mahmoud further stressed that in imparting knowledge and skills, teachers often serve as mentors, providing guidance and support to students as they navigate challenges and make important life decisions.
According to her, "teachers inspire creativity and innovation in students, helping them develop new ideas and solutions to complex problems.
"In our modern society where most parents are working class citizens, the teacher instill values and ethical principles, thereby contributing to the development of responsible citizens who contribute positively to society".
She, therefore, assured that the Federal Capital Territory Administration would continue to support the welfare of teachers, motivate innovation in the provision of quality education and enhance productivity across board in the Basic and Secondary Education sub-sector.
In his welcome address, the Education Minister of State, Hon. Yusuf Sununu, noted that education is in a critical juncture, and teachers in service require constant training and retraining to fit into the scheme of things.
While commenting on this year's theme: "The Teacher We Need for the Education We Want: The Global Trend to Reverse the Teacher Shortage", Sununu described it as apt as the theme addresses the issues that currently mitigate the envisioned progress by all nations in the provision of quality education.
"The teacher we want shall be creative, active listener, engaging, collaborative and has empathy. He also must be adaptive, focused on growth, patience, respectful and prepared to engage in lifelong learning," he stressed.
Recall that the World Teachers' Day marks the anniversary of the adoption of the 1966 International Labour Organisation (ILO) and United Nations Educational, Scientific and Cultural Organisation (UNESCO). It is a day to honour teachers around the globe and celebrates their contributions to shaping the future of their pupils.
Austine Elemue
S.A Media To FCT Minister of State
October 5, 2023.