FCT MINISTER RECEIVES UAE AMBASSADOR TO NIGERIA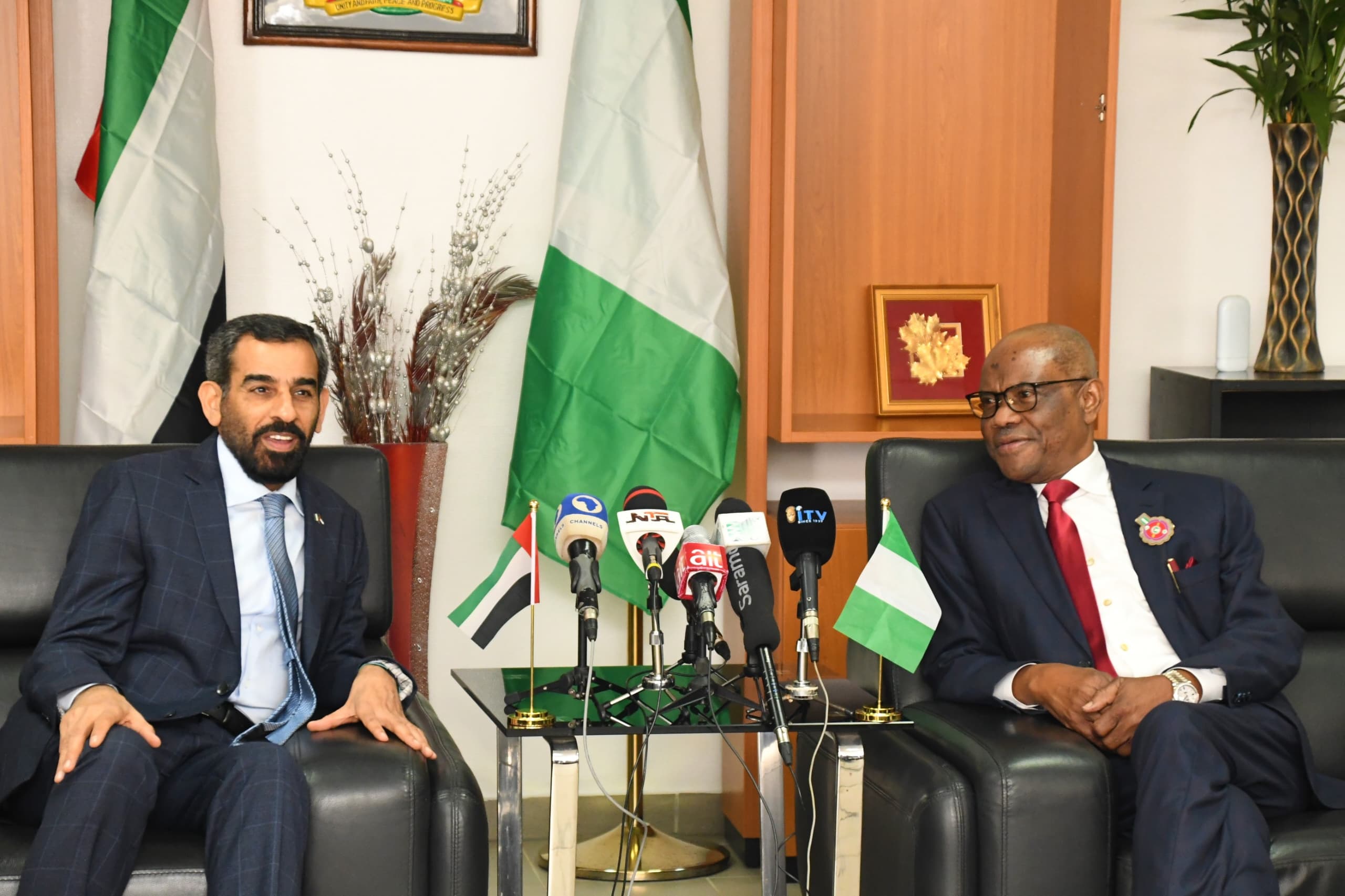 …Seeks partnership in tourism development
1. Minister of the Federal Capital Territory, Barrister Ezenwo Nyesom Wike has called for cooperation and partnership with the United Arab Emirates (UAE) to develop Abuja's tourism potentials.
2. The FCT Minister made the call when he received the UAE Ambassador to Nigeria, His Excellency, Salem Saeed Al-Shamsi, who paid him a courtesy visit in his office in Abuja on Monday, November 13, 2023.
3. The Minister noted that the UAE has become a tourist centre of the world and expressed the desire of the FCT to also improve its tourism potentials in partnership with the UAE.
4. Responding to the revelation by the ambassador that President Bola Amed Tinubu will be visiting the UAE soon, the Minister informed the Ambassador that the FCT Administration will be part of President Bola Ahmed Tinubu's delegation to the UAE to seek foreign investments, adding that the FCT also intends to complement the efforts of the President in the area of tourism.
5. He said, "I know the President, for him governance is business. For him, whatever that is going to make Nigeria great is what he stands for and so we are here as his foot soldiers to complement his efforts to see that the Renewed Hope agenda is fulfilled,"
6.    Barrister Wike also spoke on the lingering issue of travel bans and flight restrictions imposed on Nigerians by the United Arab Emirates.
7. The Minister said Nigerians love the UAE, especially Dubai, and called for a quick resolution of the process of Visa allocation, which he noted was becoming too cumbersome and therefore hindering smooth relations.
8. He said, "We also hope that the issue of visa ban and flight restriction of the United Emirates will be resolved as soon as possible. Nigerians love UAE, Dubai especially. We believe that we will not have hindrance in terms of visa procurement."
9. In his response, the UAE Ambassador to Nigeria, Al-Shamsi stated that Nigeria and UAE have a lot in common but explained that the travel restrictions were introduced to close existing gaps.
10.Disclosing that the door to the UAE was not entirely closed to Nigerians, the Envoy said "Regarding the VISA issue, I would say that the door is not closed, but it's not widely open We issue a lot of visa daily. A lot of people from Nigeria go to the UAE and come back with very easy access to get the visa"
11.Also at the event were the Senior Special Assistant to the Minister on Legal and Multilateral Cooperation, Barrister Benedict Dauda, the Secretary, Economic Planning Revenue Generation and PPP Secretariat, Mr Charles Elechi and senior officials of the embassy.
ANTHONY OGUNLEYE
DIRECTOR OF PRESS
OFFICE OF THE MINISTER
13/11/2023