BRING YOUR TALENTS TO BEAR IN GOVERNANCE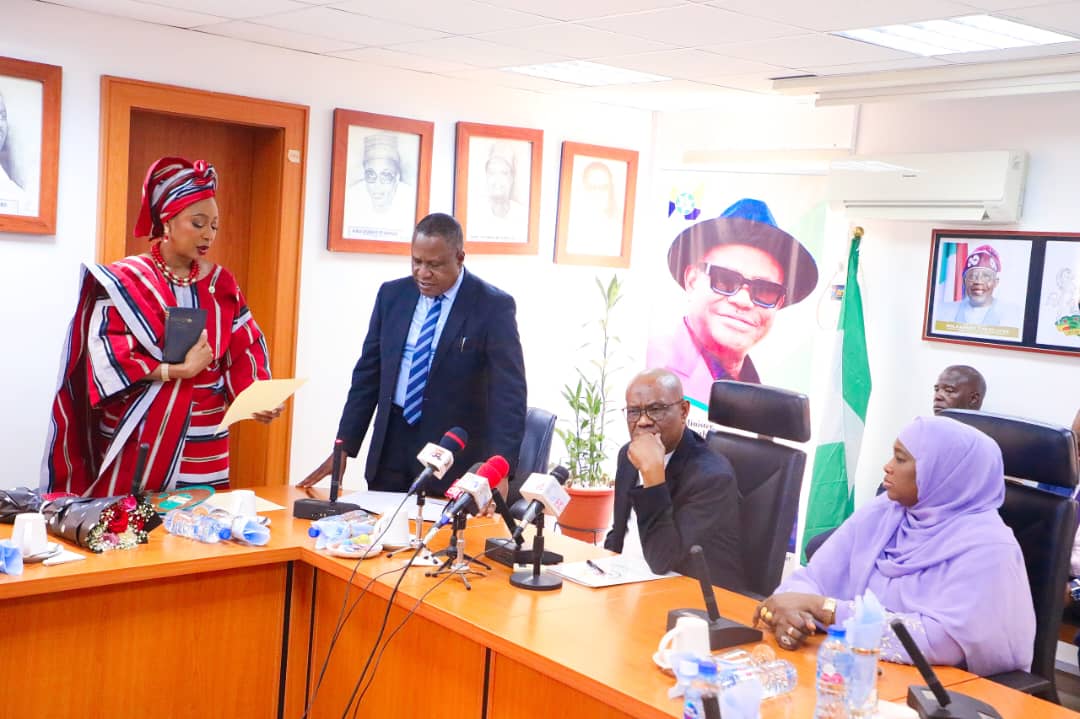 -WIKE CHARGES NEW MANDATE SECRETARY FOR WOMEN AFFAIRS

1.     The Minister of the Federal Capital Territory, Barrister Ezenwo Nyesom Wike has called on the newly appointed Mandate Secretary of the Women Affairs Secretariat, Mrs. Adedayo Benjamins-Laniyi to bring her experience and talents to bear in governance in the FCT.
2. Barrister Wike made the call in Abuja on Tuesday, October 24, 2023, during the swearing in ceremony of the Mandate Secretary, which was performed by the representative of the FCT Chief Judge, Justice C. Aghashieze.
3. The FCT Minister stressed that the Mandate Secretary was appointed based on her experience and capacity and urged her to also bring innovation into governance in the FCT.
4. The FCT Minister noted that the position, being its first in the FCT, required a lot of work and therefore advised the Mrs. Benjamins-Laniyi to work in synergy with her colleagues to achieve the mandate of her Secretariat.
5. The Minister said, "With your resume, we can see that you are full of talent and experience and that's what we want you to bring to bear to help FCT to have a place where women will also be part of the governance structure."
6. "We want to believe that women will appreciate this opportunity to also contribute to the Renewed Hope agenda", the Minister added.
7. Describing the Women Affairs Secretariat as a testament of the Renewed Hope agenda of President Bola Ahmed Tinubu, the FCT Minister commended the President and the First Lady, Mrs. Oluremi Tinubu for promoting inclusivity and ensuring that women are included in governance
8. It would be recalled that the President recently approved the establishment of the Mandate Secretariat on Women Affairs in the FCTA, which would function like the Women Affairs Ministries in other States of the federation.
9. With her appointment, Mrs. Adedayo Benjamins-Laniyi becomes the pioneer Secretary of the FCTA Women Affairs Secretariat
10. Born on the 17th of October 1965, Mrs. Adedayo Benjamins-Laniyi is a high-profile politician, certified global communication expert and an environmentalist.
11. A graduate of the University of Ibadan, Mrs. Benjamins-Laniyi hails from Ogun State and is the grand Matron of the Hope Again for FCT Women in Politics as well the organizer of an annual enlightenment programme on violence against women.
12. Present at the event were the Minister of State of the FCT, Dr. Mariya Mahmoud, FCT Permanent Secretary, Mr. Olusade Adesola, all mandate Secretaries of the FCTA, other senior officials as well family and friends of the new Secretary.
ANTHONY OGUNLEYE
DIRECTOR OF PRESS
(OFFICE OF THE HONOURABLE MINISTER)
24/10/2023
FCTA/ODP/PR/448