FLOOD ASSESSMENT TOUR: PERM SEC DECRIES RAMPANT THEFT OF GULLY INLET, MANHOLE COVERS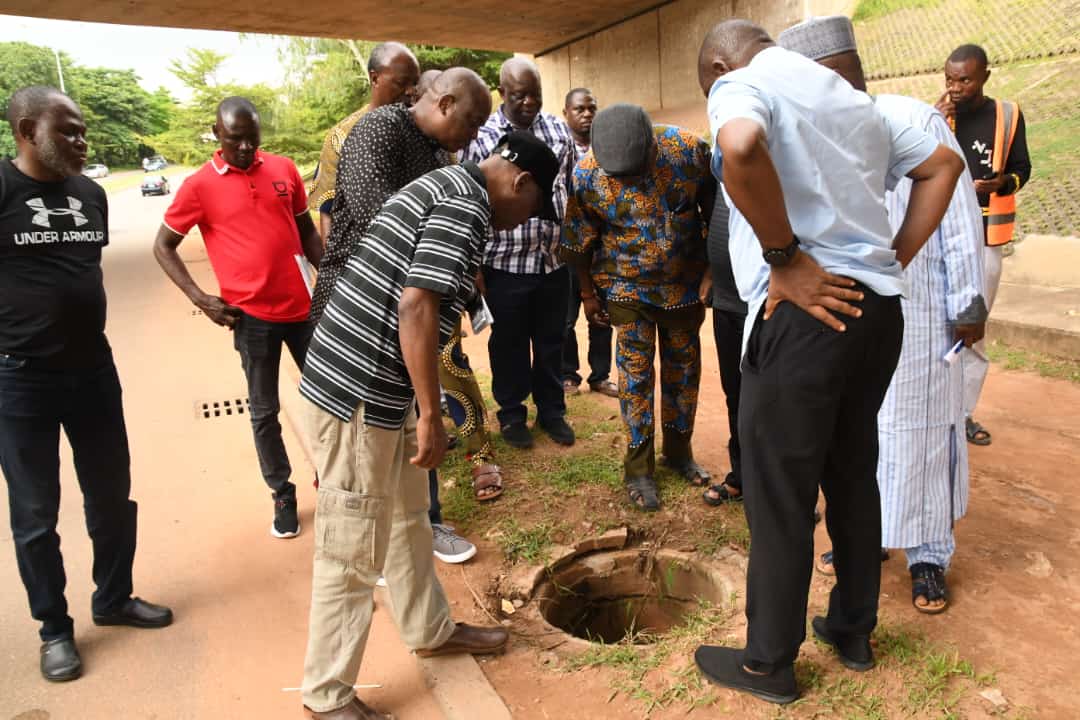 …CALLS FOR SUPPORT AND COOPERATION OF RESIDENTS, SECURITY AGENCIES
1. The Permanent Secretary, Federal Capital Territory Administration, Mr. Olusade Adesola has decried the repeated vandalism and theft of expensive gully inlets, manhole covers and other flood containment infrastructure on Abuja city roads.
2. The Permanent Secretary who spoke after a flood assessment tour of parts of the city over the weekend, lamented that expensive gully inlet and manhole covers that were recently replaced by the FCTA have been vandalized and stolen, leading to suboptimal performance of the drainage systems and consequent flooding on some city roads.
3. Mr. Olusade expressed shock that even the gully inlets and manhole covers made of ductile materials that were of little or no second-hand value, have also been targeted by the vandals, leaving a very worrisome situation in the FCT.
4. The Permanent Secretary said the incessant vandalism and theft of these expensive public infrastructure and their accessories, have become untenable in the FCT, in the wake of the dwindling resources of government and other competing interests.
5. He therefore called for the collaborative support of FCT residents by reporting any unusual or suspicious observations to the relevant security agencies for prompt action in order to forestall the ugly situation.
6. In the words of the Permanent Secretary "Earlier in the week, we undertook a visit to the flood sites of Lokogoma and Trademore, amongst others. The destruction caused by the flood in those areas were really touching. But we knew that equally within the city, there are pockets of flash floods and flooding of some areas due to suboptimal performance of our drainages and we also knew that efforts were made to address these challenges.
7. "So, today what we did, as part of efforts to rid the city of flooding, was to go round and visit some of the locations where we have had some flooding during this rainy season and to also see the works that we are doing to address them.
8. "So, overall, our assessment has been that to rid the city of flooding is a collective responsibility. The manhole covers that were placed on this particular road, last year, have been removed. They were not removed by ghosts. They were removed by people and this is Federal Capital City where we have all the law enforcement agencies present.
9. "We want to beckon to every citizen and our law enforcement agencies to support the efforts of the FCTA in protecting lives and properties through the provision of road infrastructure. A lot of resources are committed to replacing these manholes, but not long after they are replaced, they are removed. On this particular road that we are, ductile materials that were thought to be of little or no second-hand value were installed. But shockingly today, all of them have been removed and nobody has been arrested for removing any.
10. "So, we want to appeal to every citizen; when you see something, report something. We have the number 112 where we can make emergency reports. When something unusual is happening, report it so that our law enforcement agencies can be invited to deal with the situation. This way, we will all be contributing to making the FCT flood-free."
11. Speaking on the cost implication of installing gully inlet covers and replacing stolen infrastructure in the FCT, the Permanent Secretary said, "For instance, this afternoon, before embarking on this trip, we did a cursory review of what this costs.
12. "In a distance of one kilometer, we can have more than 20, 30 floodwater covers, gully inlet covers and maybe one or two or three manhole covers and each gully inlet costs not less than N500,000. Now, if you multiply this by 20 kilometers, 80 kilometers, 200 kilometers, you know what this translates to. And this is in the face of very competing needs for the meagre resources that we have. This underscores the need for everyone to support the efforts of government to protect this road infrastructure".
13. Mr Adesola also cautioned members of the public who dump refuse into flood drains to desist from doing so. He said "To members of the public engaging in that, they need to know that these gully inlets are not dumpsites.
14. "They are to allow free flow of water through the channels or ducts provided underground. When these ducts are working and there is free flow of water, immediately after a rain, the place would dry up in five minutes because it has taken the whole water away.
15. "But when they are blocked, just as you saw at certain locations, the water accumulates, the consequences are grievous as we say. For instance, they soak the roads, damage the roads and create problems for us. These gully inlets are not dumpsites for our wastes. We enjoin our citizens not to dump waste there. Use your waste bins."
16. The Permanent Secretary was accompanied on the visit by senior officials of the relevant Secretariats, Departments and Agencies of the FCTA.
ANTHONY OGUNLEYE
DIRECTOR OF PRESS (OFFICE OF THE FCT MINISTER)
02/07/2023